In January 2011 my wife and I went to Tanzania to trek to the summit of Kilimanjaro. This was our first "real" expedition together. We got supported in the logistics and planning by Kipling Travel  as an individual unguided trip. The local support was on setting up camps, preparing meals and local transportantion.
We have done outdoor stuff before, but anyway a new experience to make morning wash of a dish with frozen water. Not to mention the infamous "toilet" facilities on the route.
The Machame route goes through 5 climate zones, starting in rain forest ending in arctic climate at the summit in 5.895 m. This requires quite a suite of clothing to deal with heat, heavy rain and very cold weather. We got a very good learning in what works and what do you not need to bring next time. Perhaps my post on gear essentials will inspire you.
Pole Pole
Our previous experience with high altitude was absolutely zero, so it took some time before we understood why the local guide repeatedly said: Pole pole (slow slow). We where in pretty good condition and the daily strolls upwards were not even close to wearing us out. Thus, we walked fast and often reached next camp early in the day before camps were set up – well done, but very foolish.
The pay-back came when we reached the first high point at Lava Tower in around  4.500 m. My wife began to be very grumpy on me and slowed down. I just thought she had a bad day. When arriving in Barranco camp she showed clear signs of altitude sickness. She suffered severely, only capable of laying flat in the tent. I could not get her to drink or eat, so the local guide found the biggest porter who said (correctly: shouted) to my wife:
You eat or you go down – NOW !
… and then she ate.
Luckily she recovered during night and was fit to climb the Barranco Wall – aka Breakfast Wall. Many throw up the breakfast during the only part on the trek coming close to climbing.
On the day of summit bid we got very fast from the Karanga camp to the top camp at Barafu in 4.600 m. Well arrived at 11AM we had a light lunch and two very expensive Coke´s.
Normally, the summit bid is done during night, but we arrived early and we were in very good condition and shape now. We were asked if we wanted to go for the summit in daytime. Well, yes – off course. We packed fast and went off upwards. around noon.
Finding the team pace
The final gain to the summit is around 1.300 m and we found a very good pace and rhythm as the altitude put its toll on our breath. 30 minutes walk with 5-6 m height gain per minute, 5 minutes break and off again. Yes, use a smart outdoor watch to check the height gain as this is a better gauge of effort than speed when in the mountains.  In this way we maintained a pace that was the most efficient for getting the "team" up in fastest way without exhausting one too early.
Since then we have used the same methodology to ensure that difference between the individual optimal pace is controlled. Otherwise a high risk of one exploding when in high altitude, jeopardizing the whole team's progress.
Alone on the summit
We arrived at the summit in high spirit and all alone apart from the two porters accompanying us. Normally, the summit is rather crowded, but  we went up in daytime asynchronous with the normal traffic. The ice formations of the remaining glaciers are very unique, so hurry up if you want to see those before completely melted. It was very special to be on the huge summit plateau with the one you love. I can only recommend that you go for the summit in daytime if you get the opportunity.
Summit bonus
One reason for the very high spirit at the summit. My wife had a secret plan to propose to me on a mountain top. Afraid in the moment of not getting another chance to summit a mountain she proposed to me at Stella Point just at the summit.  I am glad she did so. If she knew we would have many more summits together in the years after Killi, I may have blown my chance. Thanks, my darling for your courage and initiative.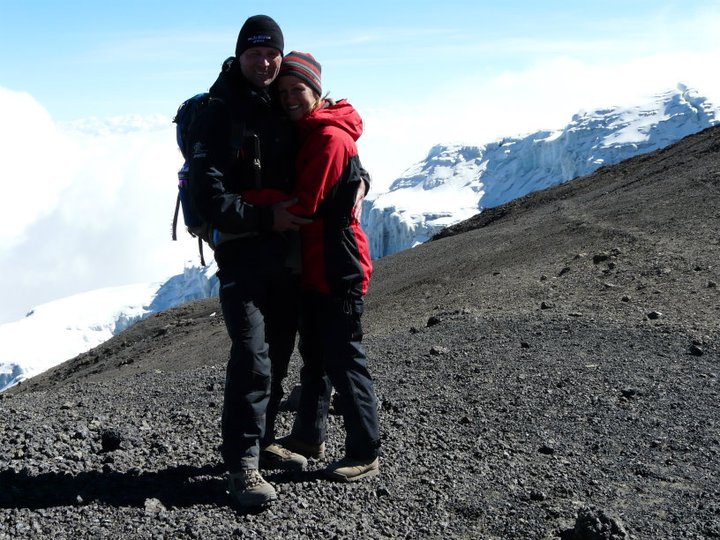 Key take aways
Pole pole really means go slow – or get punished with altitude sickness. Do not underestimate the height of Kili
Find the right pace for the whole team  – get everyone up in good style and without anyone exploding
Eat and drink more than you want to – you need the energy and it will help on avoiding altitude sickness
Go to summit during daytime, if you get the opportunity – even insist