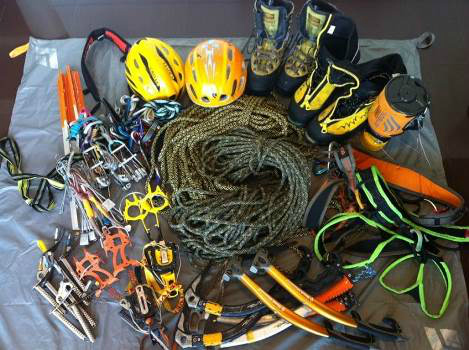 What´s the difference between gear fettish and essentials ?
Not so much. Climbing and mountaineering are great sports for gear neards and gear fettishists. You can spend a lot of time investigating and testing what is just your fettish and what is essential for your well being or even survival.
Fine tuning your use of gear is like improving your cooking: repeat and exercise again and again
Using your gear over and over in different environment will boil in what you bring on the mountain. In the beginning I was afraid of being caught up in situations without enough protection gear. Then I got tired of carrying too much i never used. Cutting down until i found myself in situations where I just missed this one carabiner, friend or used my last alpine quickdraw. Adding a bit more gear and then your fettish and essentials equals pretty much. You will probably also learn which gear that will be your favourites, eg. which carabiners you always pack first, Which abseil device you fancy and that little back-up prusik you always bring – just in case….
I must admit that I do have a comprehensive kit for climbing and mountaineering in different climates and terrain. I want to have my own gear and clothes for everything I do. Expensive, but you get to know the gear you depend on.
If you are going for gear that are essentials for safety or survival it can not be challenged – or can it ?
In my prep and packing for the upcoming Ama Dablam expedition (yes, I started serious packing 2 months before departure !) I was going through the last (few) things I needed. Actually spending time on fine tuning the grey zone of need and nice.
I spend a lot of time preparing detailed packing lists for more comprehensive expeditions or treks. Some would say (my family) I am famed and feared for my process of packing. I have learned in the hard way that small things forgotten can be a real pain or even critical when out in remote areas where you can not re-supply.
Packing, weighing, exchanging, dismissing and re-packing stuff goes on and on until you have the right gear and clothing within the weight and comfort you aim for.
I will post my Ama Dablam packing list when fine tuned to the last gram.
Good advise from friends
told me to bring two sleeping bags – one for Base Camp and one for high camps avoiding to carry 2 kilo´s of feathers up and down between camps when acclimating and building up camps.
Do not be ashamed of asking for advise from others to leverage their good and more important – bad experiences. I have learned myself to reach out and ask everyone I meet. Thus, I avoid wrong purchases or more critical – not having the gear at hand when really needed. Do not let your pride convince you that you should know everything yourself.
I do have two very warm sleeping bags, but they both weigh close to 2 kilo´s each. Weight is a very important issue on expeditions, so I decided to invest in a super lightweight down filled bag just sufficient for Base Camp temperatures. I homed in on a Marmot Helium 15, which is a very light and comfortable bag doing great down to approx. -12 deg. I know this is in the low end of recommendations, but using a liner with additional warmth I go for it.
Normally my wife is very supportive and generous on me when i buy new stuff, but this time she looked at me:
Are you absolutely sure you need another sleeping bag ??
Well, eh – yes (not really, but nice to have)
This may sound a bit over the threshold of need and nice. However, being well above 6.000 m´s you will be climbing up and down several times. You will carry loads to build camps, that drain your energy and impact the chance of summit bid. So, if you pay attention to the details of you gear…
When exercising your packing and use of gear there is a very thin line between your fettish and what you need as essentials.
Key take aways
Use your gear over and over to fine tune what you really need for different routes and treks
Pack and re-pack to boil in the balance of gear and clothing you need and the optimum weight you can bring along
Do not be ashamed of making detailed packing lists – even if your family harass you on it