This blog is not a pure climbing story, but more about how to go for the good things in life. How to prioritize the small things that makes your day a better day. A nice climb in the morning, a good cup of coffee and the best vin chaud in the afternoon and prawns for dinner at home in Argentiere.
The climb in the morning
It starts with a mountain. I was down in Chamonix in late October for a few days of training just before I am leaving for the Ama Dablam expedition. A bit of climbing, but most important: to gain some hours at altitude. Most of the valley is closed due to off season. Only the Aiguille du Midi lift is operating if you want easy access to high altitude.
The day before I climbed the Cosmique Ridge and I went up the same way to Aiguille du Midi with the lift early in the morning.
Gearing up fast as only myself to prepare I went down the very narrow ridge. Two boots with crampons could barely be side by side. Normally you have someone else on the rope that gives a kind of comfort. Descending alone this time was a bit exciting even though I have done it many times.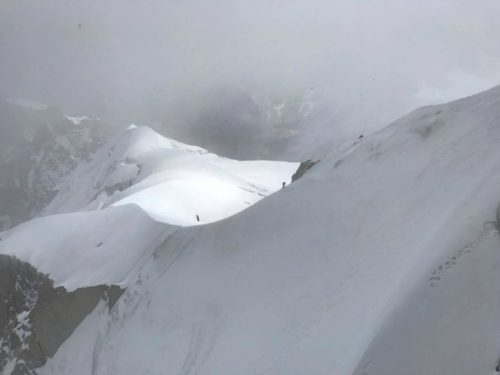 Down in Col du Midi I had not yet chosen what to do. I climbed on Cosmique Ridge yesterday, so  I was more up to gain Altitude, climb some ice and decided to climb on Mont Blanc Tacul.
Alone on the mountain
There were some faint tracks, but it was clear it had not been climbed the last few days. The surface was hard with good snow and visibility was good, so I went up the normal north face route. Apart from a team climbing the Cheré Couloir on Triangle Tacul I was completely alone on the mountain. I have done the route several times with my family and other partners and soloed it 3 times, so I felt comfortable.
The weather forecast said strong south westerly wind, increasing during the day. Fortunately, the north face is nicely in lee for this wind direction, except when coming on the final ridge, so no problems to be expected.
Huge bottomless crevasses
First part went well, but approaching the second bergschrund I found very huge crevasses 15 meters wide and completely bottomless. Looking down into the abyss, my stomach told me to stop ascending. Also the huge seracs looked prone to fall over – actually, some were broken off recently.
It may not be so, but with no one on the mountain to see where I was and my wife far off in Canada I did not want to be found 30 years later further down in the glacier. Standing there for a few minutes feeling extremely small in the giant ice cube landscape. I got a bit scared and decided to call it a day and turned around at around 3900 m.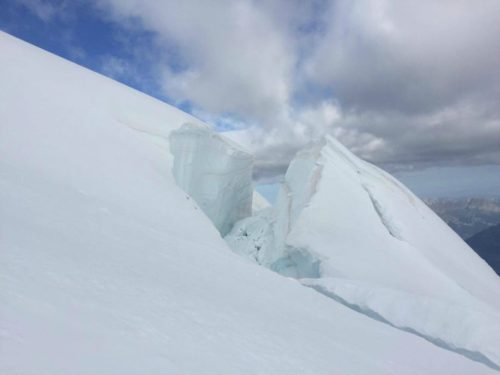 Thinking about which other options I could climb solo: Lachenal, Laurence or Cosmique again, which I normally would have done. However, I decided to go down in the valley to avoid further risks and get a good cup of coffee. Moody´s coffee shop was closed the day before and is always part of a visit to Chamonix, so a priority of the day.
Rushing down to get the best coffee in the valley
I Rushed down Tacul and quick up the Midi ridge to catch the teleferique down to Chamonix.
Running from the lift station to Moody´s coffee I crashed a foot in the door just before Ian closes. Relaxed I enjoyed two cups of double long on El Salvadorian medium roast – ahh. That's a damn good cup of coffee. Besides having the best coffee Ian is always good for a talk.
Next thing on the enjoy list was to get the best vin chaud in the whole Cham valley.
Going up again for the best vin chaud in the valley
I dumped my climbing gear in the car and went back to the Midi lift station to go back up to Plan du Aiguille, the half way station and walked down to the Refuge du Plan Aiguille. They have the best vin chaud in the whole valley. With the vin chaud I enjoyed  a huge chunk of their Tarte myrtille and got rather full and did not need any lunch after that.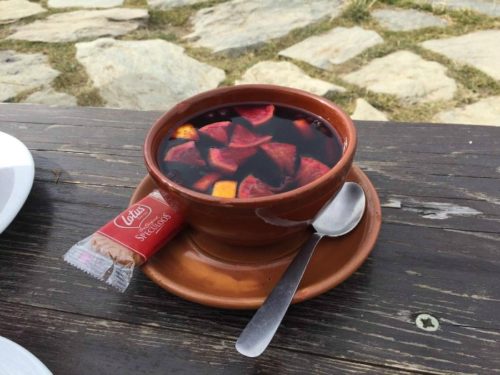 Returning to the lift station I discovered that I forgot my walking pole at the refuge giving the bonus round trip back to pick it up.
The best crevettes in the valley
Back down in Chamonix I decided to go and pick up prawns (the big ones) in Super U on the main street. All restaurants in Argentiere was closed for the season and I did not like the two options: drive back to Chamonix later or eat at Office in Argentiere.
En of story, sitting home in Argentiere with prawns, good local mayonnaise, freshly baked bread and a beer did look as a very attractive end of a good day.
Good things in life
Climbing in great ice
Having the best coffee in town
Enjoying the very special vin chaud at the refuge
Nice and simple dinner in our Argentiere hood
What else can you wish for a great day ?
Well, I would like to enjoy it all with my wife. However, she chose to be visiting our son studying in Canada.
Climb, drink, eat and love