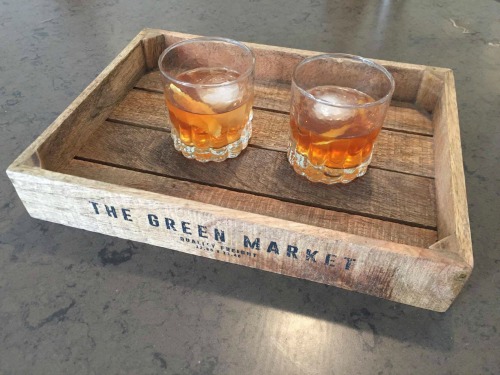 How i got to know the Sazerac
Our first, real meeting with classic old fashioned cocktails was the Vieux Carré described in another cocktail blog. When starting to dig into the world of cocktails and especially old fashioned, there is no way around the Sazerac.
The Sazerac is probably one of the most famous old fashioned cocktails, if not the most known. Ie. a mix consisting of liquor, bitters, sugar and water.
Originally, it was made with brandy, but later it was changed to rye whiskey to please the taste of Americans who preferred "red likker" to the more pale brandy.
The Sazerac is simple in ingredients, but the mixing is a bit cumbersome if done as originally. Despite the simple recipe, you will experience a very complex taste and a shiny golden look.
The ingredients:
50 ml rye whiskey – I use High West Rendezvous or High West Double Rye if you want it slightly heavier
5 ml sugar syrup – I prepare in advance with 2 sugar to 1 water. Other wise melting sugar cubes takes quite long
5 drops of Peychaud Bitters
10 ml absinthe – i use Herbasaint
1 slice lemon peel
The mixing:
Use two old fashioned rocks glass or instead your mixing glass. Mix the ingredients in one glass with a lot of ice, stir 50 turns.
Put ice and Herbasaint in the other glass and stir it to cool the glass. when cold throw it away and strain the content of the other glas in (without ice).
Garnish with the cocktail with the lemon peel.
My alterations
Cool the drinking glass first with ice and add the Herbsaint afterwards. I like a bit more absinthe taste and do not poor it all out again. I also squeeze a few drops of lemon in to balance the sweetness and to add more complexity.
The original recipe says the cocktail should be enjoyed cold, but without ice. I prefer to have one large ice cube in the glass to maintain a cooler drink. In addition, you also get the chance to experience different complexity when the ice slowly dilute the mix.