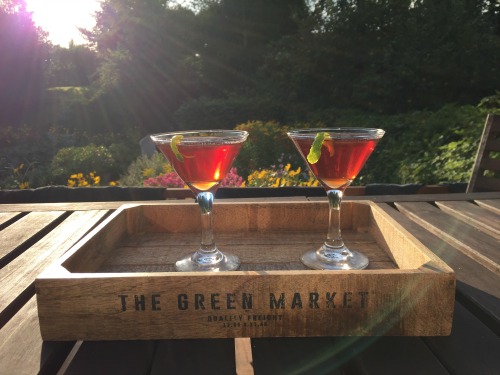 How I got to know the Vieux Carré cocktail
No doubt, this is our signature cocktail, Vieux Carré. We got it first time in the cocktail bar Duck and Cover in Copenhagen. The bar is very difficult to find in Dannebrogsgade 6. The entry into the cellar is very well kept without any signs or indications of the bar, styled in 50´ies furniture and decorations.
Since then the first time I have made the cocktail many times and modified it slightly. When modifying you should anyway be very cautious on the accuracy of the blend of the main ingredients.
When mixed correctly, you will hear the angels sing. It has an intriguing flavour, a deep taste with a lot of layers that trigger all your senses. My wife and I always enjoy the first sip standing to honour this fantastic cocktail.
Now back to the cocktail:
2 cl (1/3 jigger) rye whiskey – i use High West Rendesvouz
2 cl (1/3 jigger) Cognac Brandy – I use Martell VS
2 cl (1/3 jigger) Sweet Vermouth – I use Vya Sweet from US
1 teaspoon benedictine
1 dash of Peychaud bitter – you will have to try how much you like, start with 5 drops
1 dash of Angostura bitter – try again, start with 5 drops
a few drops of lime
Mix all in a mixing glass with a lot of ice and stir 50 rounds
Pour/strain in an icy cocktail glass, I prefer Embassy style
Squeeze a few drops of lime juice in cocktail
Garnish with a peel of lime after you have squeezed the oil in the peel on to the drink
Enjoy !
Historical background
The cocktail was first made in the Hotel Monteleone cocktail lounge by the head bartender Walter Bergeon. It is named after the "Vieux Carré" area of New Orleans where the antique shops and iron lace balconies give a romantic glimpse of the "old times".