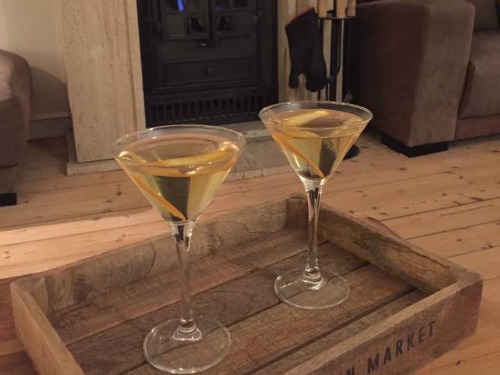 How I got to know the Joy Division cocktail:
This delicious cocktail – a great Martini style – I have found in the Bartenderens Håndbog by Mathin Lundgren. Many interesting new mixes as well as classics can be found in this book. Not sure how the new cocktail was named, but our daughter – 16 years at that time and with a weired taste of music – said: I listen to Joy Division, a post-punk band in the 70´ies. Yes, it is named after the band with the rather sad story, but with the huge impact on music in the early 80´ies.
The Recipe:
40 ml gin – i use Tanquerey Export and should be London dry gin type
20 ml Noilly Prat
10 ml orange Curacao – original recipe says Cointreau or triple sec 
5 ml Absinhe – i use Hearbsinthe
Orange peel – original recipe says lemon peel, but the orange works better with the Curacao
Stir in mixing glass with lots of ice and strain into frozen cocktail martini glass – the tall ones
Compared to the original recipe with Cointreau, the great golden colour of the cocktail comes mainly from the Orange Curacao.
I've got the spirit, but lose the feeling
wailed Ian Curtis in 1979's "Disorder."
Like the dearly departed singer's vocals, the Joy Division – named in Curtis's honor – is complex, dry, and highly potent. It's also deceptively simple to mix. So, despite the rather dark and sad historical background of Ian Curtis and the band:
Enjoy the view of the cocktail and the explosion of layers in the smell and taste !