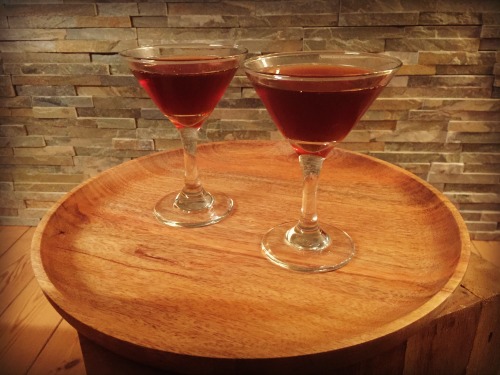 This cocktail was actually mixed by mistake, but turned out to be a very delightful mishap. Saturday early evening with my wife and no kids at home. Its too early the have dinner, too early to turn on the TV and too early for ….
Its not a secret that I do make classic cocktails in the weekend and apparently, I was a bit sloppy reading my own recipes today. Thus, when mixing the old fashioned cocktail William Sohmer, I mixed it with sweet vermouth instead of dry Noilly Prat.
The result is a very tasty manhattan style cocktail, quite dry – and very strong !
The recipe:
3/4 Rye Whiskey (1 1/2 oz Sazerac or High West)
1/4 Sweet Vermouth (3/4 oz Vya)
1 dash St. Croix Rum (1/2 oz Plantation Dark)
1 dash Picon Bitters (1/4 oz Amer Picon)
Stir with ice and strain into a cocktail glass – i prefer an Embassy style glass.
When it comes to the dashes of rum and Picon you have to find your own amounts. Dashes are not an accurate measure, but is around 1/5 spoonfull. In this cocktail I am quite more generous on the dashes.
Next time i do this one on mistake I will add a few drops of orange and garnish with orange peel.
Historical background:
Well, as only few hours old this cocktail (by mistake) do not qualify for a long historical story telling. However, the original William Sohmer deserves the honour. You can find the original recipe here.